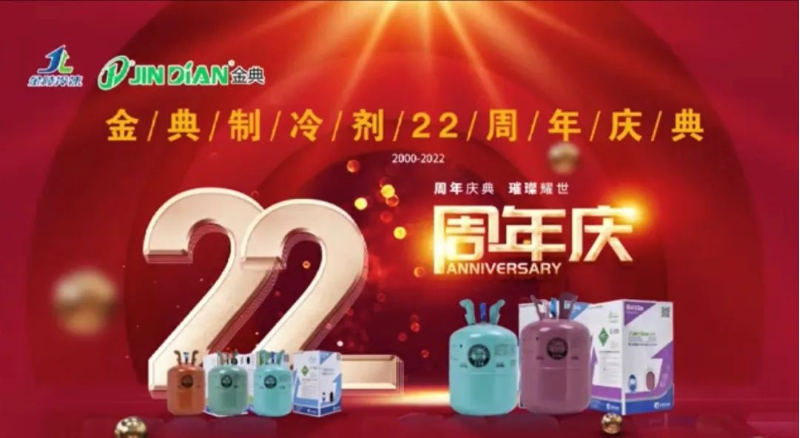 Wonderful moments of the 22nd anniversary celebration of Jindian refrigerant
At 7:08 p.m. on May 28, 2022, the 22nd anniversary celebration of Jindian brand refrigerant began. The event was broadcast live online in the form of Tencent conference, attracting more than 300 people from the refrigeration and air conditioning industry all over the country. Everyone gathered in the conference room to talk about the Jindian brand. The activity took 90 minutes in total. The host began the celebration with an introduction of the guests, partner representatives, industry exhibitions and media representatives one by one. The guests were as follows:
Secretary generals of associations sent congratulatory messages
Mr. Huang Haoliang, Secretary General of Jiangsu Association of Refrigeration
Mr. Sui Jixue, Secretary General of Henan Association of Refrigeration, and Mr. Fan Ziqiang, Secretary General of Shanxi Association of Refrigeration, sent congratulatory messages on behalf of associations.
Mr. Wang Yixi, Secretary General of Hubei Air Conditioning Engineering Association
10 partner representatives: industry exhibitions and media representatives
Li Yiqiang, chairman of Changsha Qianghua Information Technology Co., Ltd
Xu Qian, Secretary General of the organizing committee of China Icecream Expo
Lv Mingle, general manager of Hangzhou Pegasus Exhibition Co., Ltd
Liu Peng, general manager of Xuzhou Huaihai Refrigeration Exhibition
Videos that delivered blessings were sent by leaders of the institute, association, cooperation representatives and representatives of the media and exhibitions in the industry. Jindian brand refrigerant has been rooted in the refrigeration industry for 22 years, and has been highly praised and trusted by the majority of customers.
The guests reviewed the cooperation process of common growth and mutual promotion with Nanjing Jinling Refrigeration Equipment Co., Ltd., spoke highly of the brand advantages of Jindian refrigerant, and hoped that Jindian brand would become better and better, and create a century old brand enterprise. Some guests gave pertinent suggestions for future development.

In the next introduction to the development of Jindian brand refrigerant, the organizer asked Mr. Xu Wenhu, general manager of Nanjing Jinling refrigeration equipment Co., Ltd., about some questions raised by customers in the early publicity reports, and Mr. Xu gladly answered them.

Host: Many brands choose foreign or English names in order to become famous quickly. Why does Jindian ,a Chinese name, was chosen as the brand's name?
Mr. Xu: In the 1980s and 1990s, with the deepening of reform and opening up and the development of economic globalization, China's commodity market has been severely divided by foreign brands. Domestic consumers also seem to prefer to advocate these imported products and feel that the grass is always greener on the other side. After so many years of operation, both my colleagues who present today and I have witnessed the ups and downs of many enterprises. Some enterprises only use Chinese pinyin to mark their brands without taking foreign names. I think the name of the enterprise determines the gene of the brand. The name of the brand is related to the business philosophy and brand values that the brand wants to convey, which reflects the cultural heritage and cultural confidence of the founders. Only by doing a good job in the brand can the enterprise go further. The significance of Jindian lies in creating a gold lettered signboard and setting up an industry model.
Host: An old friend of yours from Guangzhou said hell. He said that the cryogenic system must use Jindian refrigerant. What do you think of his opinion?
Mr. Xu: Thanks for my old friends' attention! My cooperation with this boss from Guangzhou is also a process of making friends. As we know, there are many operators selling refrigerants all over the country. The first time when meeting the boss who had been operating in Haizhu Bei Lu in Guangzhou for many years, we talked about refrigerants. We agreed that among many brands of refrigerants, the R502 of Jindian has a fast cooling rate under low temperature conditions (the boiling point can be -45.5 ℃), so the Jindian must be selected for the low temperature system, The customer's evaluation is the best recognition, and we are very pleased to receive all the praise from our customers. With the deepening of exchanges, we have also become customers' good friends and old friends.
Host: A good brand is very likely to be infringed. At that time, a Taiwan funded enterprise invested 3 million yuan to buy the Jindian's brand, but you turned it down. It is said that 3 million yuan at that time could buy two large houses in the urban area of Guangzhou. Could you tell me your thoughts at that time?
Mr. Xu: Mnay of you may know that a good brand can effectively save marketing expenses by continuously positioning, communicating and spreading. Therefore, some fake and shoddy products want to achieve the purpose of low investment and high income by stealing well-known brands, and obtain improper income through infringement. I still remember that we once seized a batch of counterfeit Jindian refrigerants and traced them back to a Taiwan funded steel cylinder factory in Zhejiang, with the assistance of the Shenzhen Longgang Industrial and Commercial Department. The vice president of the steel cylinder factory asked for reconciliation, bringing gifts and offering 3 million yuan to buy the Jindian brand. I asked their vice president to deliver this message to their chairman: "can your child be sold at a price?" Later, through litigation the enterprise undertook compensation and punishment, and safeguarded the rights and interests of the company and local agents.
Host: At that time, running a refrigeration store must have Jindian refrigerant and Panasonic compressor. I suppose we could imagine the influence of Jindian was huge?
Mr. Xu: Yes! It sounds a little unbelievable now, but that was the case in those days. Jindian has had a good influence since its inception. First of all, it benefits from the business philosophy and market positioning of Jindian the brand. Secondly, it benefits from a confident brand name. More importantly, it benefits from the trust of customers and product quality. It is inevitable that it has a greater influence!
Host: The time you spend with Jindian is much longer than that you do with your family. Does your kid understand why you haven't been around?
Mr. Xu: I don't think so. In the late 1990s, China entered a stage of rapid development, and the air conditioning industry started booming. Since 2000, Jindian has also experienced a rapid development stage. At that time, Jindian set up offices in Guangzhou, Shanghai, Beijing, Xinjiang, etc., and the brand could and still can be seen everywhere in the refrigeration street. During the day, I had to watch small carts shuttle, and at night, large trucks unload. Therefore, there was little time to accompany my child. Now I feel a little guilty. But over the years, I have spent more time with Jindian and customers. In the process of growing up with partners, I have won respect, trust and deep friendship. Jindian has become an indispensable spiritual pillar in my life. I have lost a lot but also gained a lot. I believe that when my son grows up, he will understand my efforts, my spirit, my responsibility and my source of strength.

The event also set up a lucky-draw activity. The organizer prepared rich prizes, including one first prize and one Dyson vacuum cleaner. 21 shares of second prize, and the prize is the ice cream gift bag of Nanjing Aizhitianyuan Food Co., Ltd. 50 shares of third prize. The prize is the detergent gift box of Nanjing Valitimes Cleaning Technology Co., Ltd. Through computer drawing of the lottery, all the awards went to the guests.
Finally, Mr. Xu Wenhu, general manager of Nanjing Jinling Refrigeration Equipment Co., Ltd., reviewed the past of the Jindian refrigerant, expressed his heartfelt thanks to the association, institute leaders, partners, new friends and regular friends who participated in the event, and gave his thanks:
"The first key word is awe. We are in a very good era. We should treat this splendid era, the industry, customers and partners in awe. In this event, we plan to collect 100 small videos to record all aspects of the development of Jindian refrigerant. Thank you for your kind support. Each heartfelt video is also the respect and love for Jindian!
The second key word is responsibility. We should think of our own values and responsibilities on the first day of being an enterprise. What kind of image and influence will the enterprise and yourself leave to the industry a hundred years later? Is there a story worth inheriting? What are the social values? What have you changed? We have to take responsibility for all this.
The third keyword is sharing. Sharing is a new term in the Internet era. Today, we share brand stories and experiences through the Internet. In the future, we will also share successful cases in a certain field. This is a kind of sharing. Today, Jindian does not only belong to Jinling Refrigeration Equipment Co., Ltd , but also to people who work in refrigeration industry. It represents the wishes of a generation of refrigeration people and requires our persistence and efforts.
A good brand can stand in the industry for 22 years, which can never be achieved without excellent product quality, perfect sales system and the spirit of indomitable struggle of all the staff of Jindian!"
The celebration was hosted by Nanjing Jinling Refrigeration Equipment Co., Ltd., supported by Nanjing Jindian Refrigeration Industry Co., Ltd. and organized by the organizing committee of Huaihai Refrigeration Exhibition. The activity was a complete success!