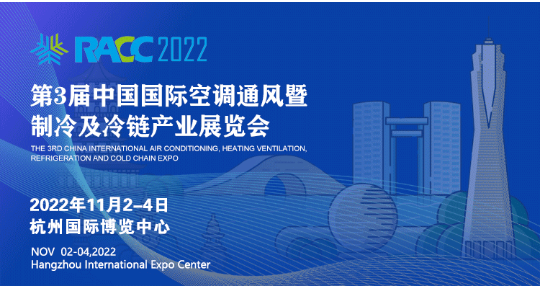 On the morning of May 31, RACC committee made a special trip to Linping, Hangzhou Linping to visit CECO Refrigeration Technology Group Co., Ltd.. Manager Guo warmly welcomed the committee. During this visit, in addition to promoting the idea of holding an international brand Refrigeration Exhibition and passing on the latest trends of the exhibition, the committee also learned about the needs of CECO Refrigeration in brand promotion and actively invited the group to attend the exhibition.
Manager Guo has expressed that 2022 is a year for the company to implement group business integration. They hope to expand brand publicity and enhance brand awareness and industry influence through various channels. The company has also cooperated with Zhejiang association of Refrigeration and the organizer of RACC exhibition. At present, they are also making a comprehensive publicity plan to simultaneously promote their products through online, offline and academic circles.
In 2021 China Refrigeration and cold chain exhibition, CECO Refrigeration visited the exhibition and understand the actual situation of the exhibition. Manager Guo recognized RACC exhibition'S specialization and purchaser resources. Relying on the advantages of the refrigeration industry base in the Yangtze River Delta, the exhibition will focus on the display of refrigeration equipment such as cold chain equipment and commercial freezers for the professional purchasing merchants from all over the country, which is believed to bring better exhibition effect to CECO Refrigeration!
After knowing about the participation of major brand enterprises, Manager Guo had a deeper understanding of RACC exhibition through this thorough communication. The transportation for the exhibition in Hangzhou is also very convenient. Therefore, it is convenient to directly invite customers to visit their factory. This is an annual HVAC event worth looking forward to!
Manager Guo carefully checked the floor plan and selected an appropriate booth on site. RACC committee will work with SECO Refrigeration to customize a more detailed exhibition plan. From November 2 to 4, new and regular customers are welcome to visit Hangzhou International Expo Center for exchanges and win-win cooperation!
About CECO Refrigeration Technology Group Co., Ltd.
CECO Refrigeration Technology Group is a global cold chain system integration solution service provider. It is a high-tech enterprise integrating R & D, design, production, sales, system integration and service. The group is mainly engaged in cold chain equipment, commercial freezers, new insulation materials, fresh-keeping and thawing equipment and nano new materials, and owns well-known brands such as CECO Refrigeration, BEIJER REF, Delman and Xianwang.
The group is a scientific research team composed of many cutting-edge scientific research talents at home and abroad, and has established industry university research cooperation with well-known domestic universities. The company has established a sound product R & D system, and has applied for the provincial enterprise technology center, the municipal cold chain equipment and new refrigeration technology engineering technology research center, as well as the two air coolers laboratory and the volumetric compressor condensing unit laboratory.
lab
The company has independently researched and developed nearly 100 products, applied for more than 100 domestic invention patents and utility model patents, and owned more than 70 domestic invention patents and utility model patents, which has enriched the ability to solve industrial application development, provided industrial technical service support, solved problems in industrial application, filled the gap of domestic core technology, led the international technology frontier, and consolidated its leading position in the industry.
Adhering to the business philosophy of innovation promotes development and service promotes market, the group has established a comprehensive marketing service network. Its business covers the whole country. It has set up more than 10 branches and more than 100 agents in major cities across the country. Its products are exported to many overseas countries and regions. The company has a 24-hour service hotline 400-115-9598 to provide customers with one-stop nanny services from project consultation, scheme design, after-sales and operation and maintenance.
The group's products are widely used in cold chain logistics park, food processing plant, fresh e-commerce cold chain, catering hotel back kitchen cold storage, supermarket cold chain, biomedical cold chain, aviation catering central kitchen, chemical plant refrigeration and other fields. Its customers include domestic and foreign cold chain system integrators, engineering contractors, equipment agents, after-sales maintenance service providers, equipment manufacturers, and Party A's owners. The company can provide customers with a series of products and solutions of cold chain equipment, commercial freezers, fresh-keeping and thawing equipment, new insulation materials and nano antibacterial new materials with excellent performance.